It's alive
2010-04-20
It's back, but without any new content.
Here is my stuff.
Non-Vectrex games
2005-05-23 - You might have wondered what I've been up to - I've made a number of non-vectrex games and put them on this web site for your enjoyment. Read the disclaimer before downloading.
VecRAM now works on BeOS
2004-11-24 - Yes, that's right. Of the tiny number of people who have a VecRAM, if you happen to install BeOS, you can still load your games!
See the Vecram page for more info.
Robotron clone in development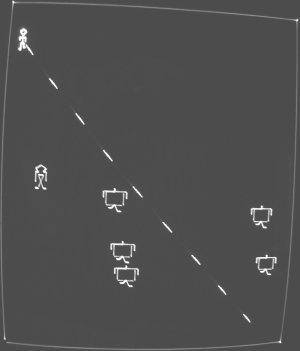 I'm trying to develop a clone of the Williams classic Robotron. Unfortunately due to the Vectrex's limits it probably won't have as many robots as the original. Screenshot:
Vectrex.org.uk created
2003-02-05 - Work begins on Vectrex.org.uk
Altenative VecRAM software
2003-02-05 - You can download the alternative VecRAM software I made for various platforms here.
Vectrex.org.uk banner
If you want to know how the banner was created - I simply wrote a program for the Veccy that displays "VECTREX.ORG.UK" at the default size using the rom character routine. I then snapped the screen, and pasted it up there. Good, eh?